Post by buttercupmm on Dec 20, 2007 23:31:51 GMT 8
Jiro Wang is secretly in love with Xu Wei Ning, meets rejection because he don't have facial hair?!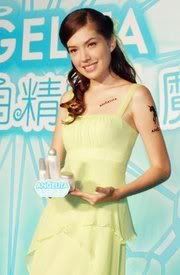 Jiro Wang revealed that he is once secretly in love with Xu Wei Ni, sentimental guy(Jiro Wang) saw that the relationship between Xu Wei Ni and Ethan Ruan Jing Tian is stable and said: "Lucky its Ethan Ruan Jing Tian!" and give his blessings. However, Xu Wei Ni knows that Jiro Wang likes her and still she used an Caucasian celebrity, Anthony (something. I don't understand how they translated it to Chinese!) as a shield, making Jiro unable to continue any longer.
Acts generously and give blessings to Ethan Ruan
While filming "It Started With A Kiss", Jiro Wang expressed that he adore Xu Wei Ni. In the drama, he loved Ariel Lin with a near crazy way of wooing her but in reality, he liked mixed blood beauty Xu Wei Ni, who have huge eyes, fair skin and looks as sweet and cute like a barbie doll. "It Started With A Kiss" finished filming since two years ago, Jiro is still frequently being teased by the crew, saying that he cannot forget Xu Wei Ni.
Jiro who has not been in a relationship for two to three years, did not take action to woo Xu Wei Ni until Xu Wei Ni and Ethan Ruan is revealed to help each another to put on sunscreen lotion in Ken Ding and pictures of them kissing on the road and going in and out of one another's house are taken by us(the paper). When asked about Xu Wei Ni having a new relationship, Jiro still said: "Its ok, its Ethan.". With the girl he is secretly in love with being wooed away, Jiro still act generously.
Sexual fantasize about Xu Wei Ni? Jiro is so shocked that he is at a lost for words
"They Kiss Again" held their celebration party yesterday, Jiro Wang happen to sit just beside Xu Wei Ni. When asked about the one she adore, Xu Wei Ni who knows that Jiro likes her actually used Caucasian celebrity, Anthony(something) as her shield. Joe Zheng Yuan Chang who is beside them immediately laughed and said: "Oh, so you like those with a lot of hair." Compared with Ethan Ruan who has a mustache on his face, Jiro Wang is given the red card.
When asked about Jiro's sexual fantasy, the reporter asked if the girl in his sexual fantasy is Xu Wei Ni, Jiro is momentarily stumped for words while Xu Wei Ni acts as though she didn't hear anything. As for relationships, Jiro said he is the one who dare not take initiative, if the girl he likes has got a partner, he will back out.
Translated by mi-chelle